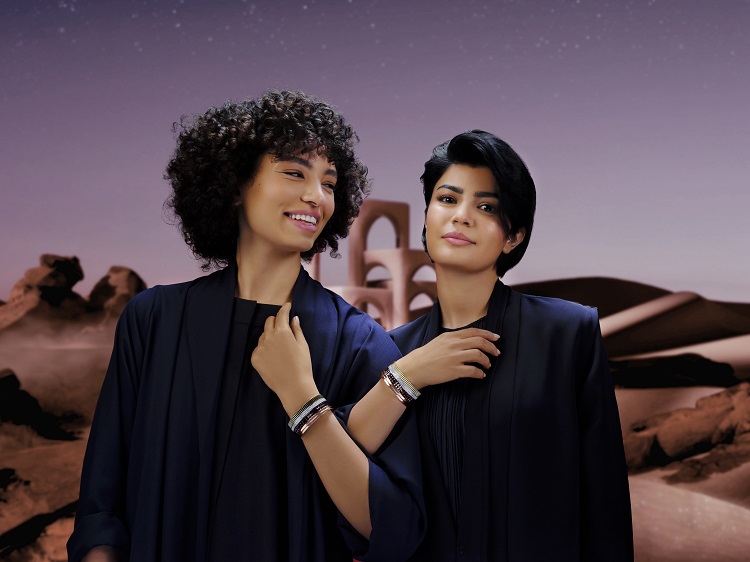 Boucheron, the most stylish and cutting-edge French High Jewellery Maison, honours the Middle East with its new campaign. "Invent the future, Honour the past" conveys the value of transmission that is central to both the Maison and the region.
Three short and inspiring episodes star Boucheron's Middle Eastern ambassador Mila Al Zahrani, each paying tribute to the region's roots, progress, and future, merging traditions with innovative, avant-garde aspirations. The campaign is set in an ever-changing desert landscape set to reflect the evolution of cultures, while the sun casts a soft light on the characters and reveals Boucheron's creations.
Roots, where everything starts
"Everyone's story starts with their roots. Our history, our traditions, our heritage. Foundations from which we all grow. Invent the future. Honour the past."
The first episode, "Roots," features Mila and a mother figure, portraying the bond between mother and child and honouring the roots from which everyone grows. It transports the viewer into a vast desertscape, echoing the region's heritage. In this scene, the sun sets on a past era as a metaphor for progress in the Middle East. Transmission from one generation to the next is symbolised by the Serpent Bohème jewellery shared by the women.
Created in 1968, Serpent Bohème is the first of Boucheron iconic collections. Every year, it continues to be reimagined and given new life through innovative designs. In this episode, Mila is adorned with new white gold Serpent Bohème Solarité earrings paved with diamonds; Boucheron illustrates how heritage and history can be an endless source of inspiration in building the future.
Evolution, moving forward
"From our roots we evolve. We pioneer, we build, we elevate. We honour our beginnings while moving forward. Invent the future. Honour the past."
"Evolution", the second episode in the campaign, features Mila and a sister figure, highlighting the importance of sisterhood and the support that comes with it. The sunny desert landscape gives way to a traditional Arabian village under the moon. On this starry night, transmission within the same generation is illustrated by the two women sharing Quatre jewellery – Mila passes a Quatre XXL cuff to her sister so that they can both wear the same creation and sparkle together.
Future, limitless possibilities
"Invent the future. Honour the past. Now we look ahead. Innovation, creativity, boundless thinking. With such limitless possibilities, what comes next?"
The third video, "Future," transports viewers to a modern metropolis. The Middle East is home to the most future-forward architecture today. The sunrise casts new light on the characters, played by Mila and a figure representing the younger generation. The new Quatre Double White Edition embodies renewal and celebrates creativity that shapes the future. Boucheron has always been guided by innovation through its ground-breaking designs, pioneering materials and cutting-edge technologies; the Maison forges ahead to imagine the future of jewellery.