V, OF THE ICONIC POP GROUP BTS, IS THE
MAISON'S NEWEST AMBASSADOR AND FACE OF
THE LATEST PANTHÈRE DE CARTIER CAMPAIGN

The pop icon V (Kim Taehyung) has the same creative spirit and magnetic gaze as the panther. These links of character make this artist, considered one of the most talented of his generation, an ideal Cartier ambassador to wear Panthère de Cartier jewellery creations. A sculptural diamond ring, tête-à-tête panther bracelet and the Révélation d'une Panthère watch: he wears all these pieces in a fusional way.

V follows his trajectory with the same determination as the panther. A free spirit, both
author and composer, he magnetises an entire generation as a soloist and member of the
group BTS.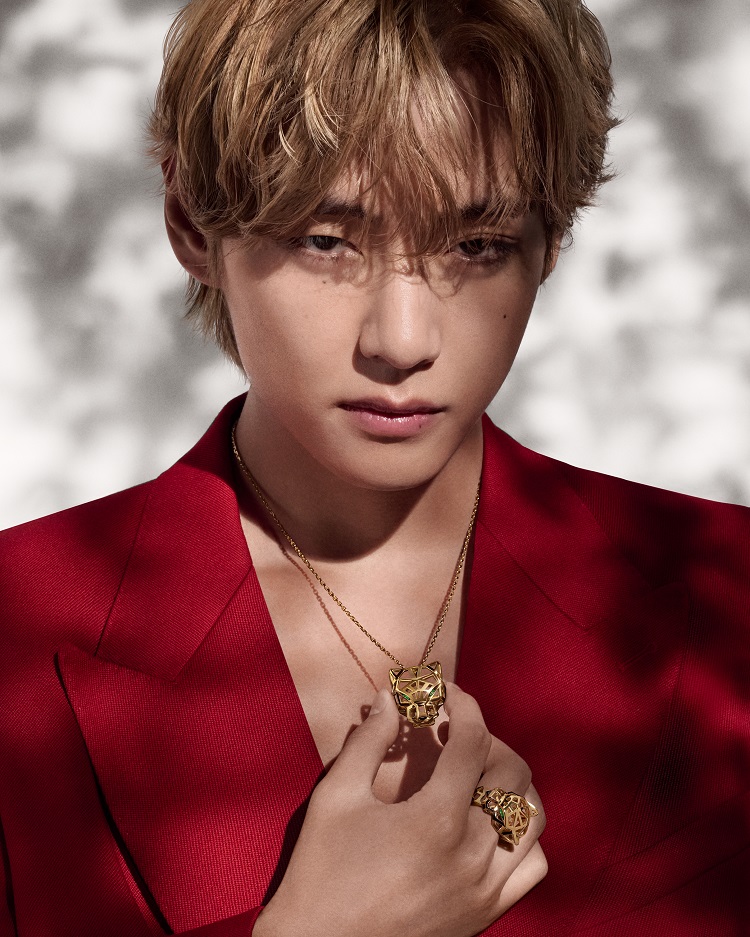 His unique voice, sense of choreography and fashion have made him an influential icon, with a power of attraction that he exercised from his first appearance on stage in 2013.
His solo discography includes hits 'Stigma', 'Singularity' and 'Inner Child'. He has also demonstrated his song writing abilities with "4 O'CLOCK", "Scenery", "Winter Bear" and "Blue & Grey". He also participated in soundtracks for Korean television series such as "Even If I Die, It's You", broadening his musical scope.

It is this radiance coupled with great elegance that naturally connects him to the panther community, a family of strong personalities united by the same instinct.
« When it came to embodying the magnetism and aura of the panther, our choice naturally fell on V. He has the look and strength of character. A personality whose choices are guided by creativity as a dancer, musician or art lover, with this style and this elegance that belong only to him. » ARNAUD CARREZ, SENIOR VICE PRESIDENT CHIEF MKG OFFICER