Rami Al Ali unveils his latest collection for Autumn/Winter 2023-2024, eloquently blending contemporary sartorialism with the works of symbolist painter Gustav Klimt to deliver an outstanding collection that blurs the lines between fashion and art. Drawing inspiration from the Austrian art master's most celebrated paintings, including the iconic Bauerngarten mit Sonnenblumen from 1906 and The Kiss from 1907, Al Ali curates a captivating narrative with an imaginative 35-piece collection.
Paying homage to timeless themes set forth by Klimt's winter garden, the designer demonstrates the mastery and savoir-faire of the Rami Al Ali Maison through a decidedly elegant 10-color palette. Drawing inspiration from a dream-like winter garden theme, reimagined to match the aesthetics of Klint's whimsical artworks, Ali Ali plays with the concepts of color, texture, and volume to recreate the majestic beauty of nature, as witnessed during the cooler months of the year. Soft organic shapes are juxtaposed by decisive lines to recalibrate the perception of symmetry and balance – paying homage to Al Ali's ever-evolving creative vision. Deep tonal greens are offset by delicate rose pinks, frosted blues, elegant neutrals, and stately jewel toned purples and reds; creating a seasonally inspired palette that is show-stopping yet demure all at once.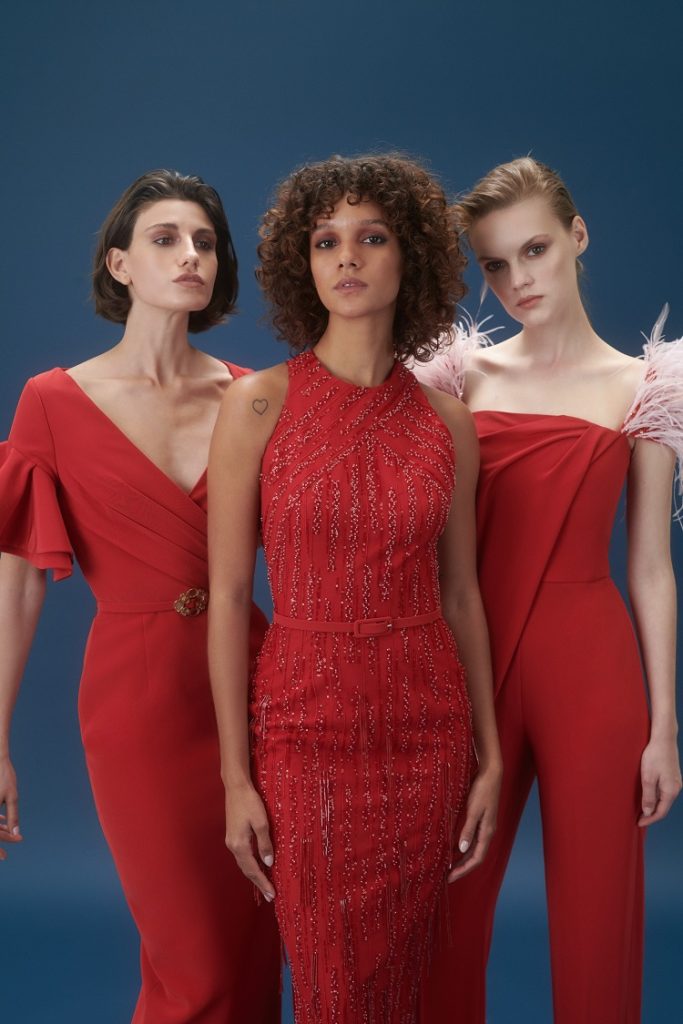 Signature cuts are revisited through the use of asymmetry, pleating and intricate fabric manipulation techniques to give new dimensions to the female form. The mood is refined, ladylike and unapologetically sophisticated, with cultivated silhouettes that demonstrate the immaculate artistry of the Rami Al Ali atelier. Demure tea-length skirts are matched with empowering structured shirts, whilst softly flowing elements add an unexpected dose of glamour to architectural silhouettes. Intricate embroideries, in a splatter of vivid colors, hint at artistically inclined inspirations, whilst tonal gold embellishments lend a sense of unapologetic decadence to the collection. Delicate beading, eye-catching tassels and opulent ostrich feathers are effortlessly incorporated on silhouettes that range from mini to full-length.
A breathtakingly innovative expression that melds understated refinement with high fashion appeal, the Autumn/Winter 2023-2024 collection showcases the extraordinary precision and meticulous attention to detail that have become a hallmark of the Rami Al Ali brand.