For Maximilian Davis' sophomore collection at Ferragamo, the designer further develops the narrative of his debut. Where Spring/Summer 2023 drew upon the languid glamour of a sunset beachfront, Pre-Fall 2023 pans out on Hollywood to explore an extended, panoramic view of its landscape: the snow-tipped peaks resting behind its sun-kissed hills; the arid desert that lies just beyond the city.
Mixing the heat and sensuality with a cool and distressed spirit, the collection explores and harmonises contrasts between beachfront and outerwear; between pristine fabrications and raw edges; between storied glamour and everyday ease.
The history of Hollywood, so integral to Ferragamo's foundations, plays a direct role in the collection: one of Salvatore's first cinematic endeavours, creating the cowboy boots for The Covered Wagon in 1923, became a formative influence. The tropes of the Western wardrobe appear as a consistent conceit – from the introduction of denim, raw and distressed or flocked in velvet, to pocket detailing or belt-wrapped bags and shoes.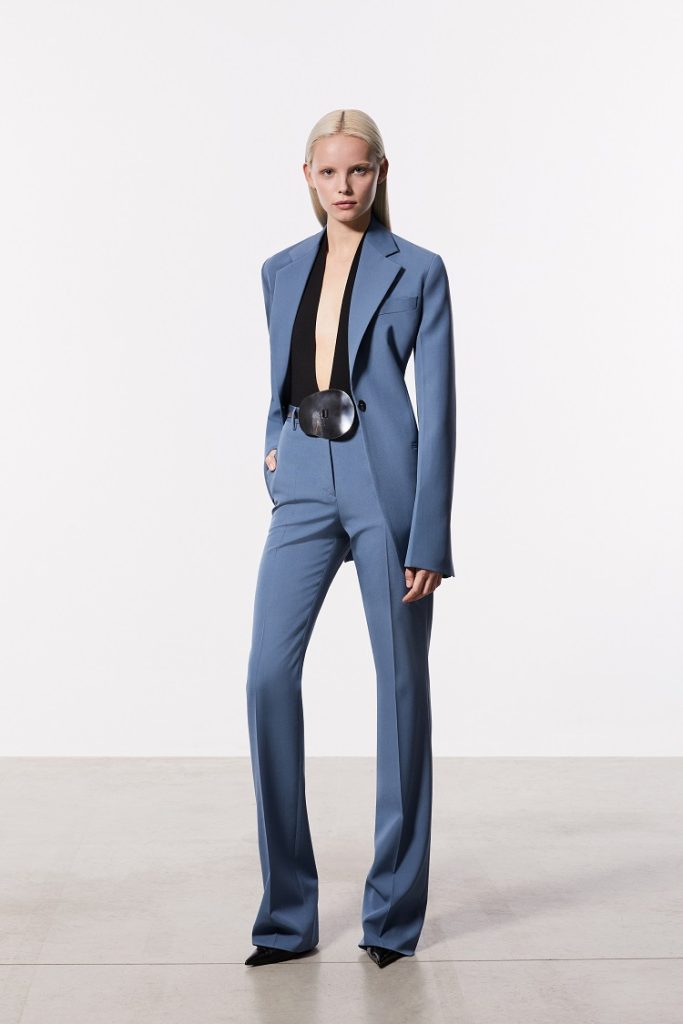 Elsewhere, Hollywood's high-octane glamour finds a modern sensibility through minimalist silhouettes expressed in remarkable fabrics: a bustier dress in gold foiled eelskin, or a cream silk two-piece padded with down. "I want to create a new Hollywood for Ferragamo – and it's about introducing new ways of dressing both for the red carpet and the everyday," says Davis. These are looks which can simply be broken down into pieces, elevated by the techniques and materials used to create them. Staple tailoring silhouettes and elevated everyday essentials are executed with an exacting finesse; the precise hand of Ferragamo's ateliers appear centre stage.
An undercurrent of fetishism, omnipresent within Davis' work, is most directly visible through high-shine finishes: the extraordinary gloss of patent skins, or wipe-clean leathers. But an overarching sensuality prevails throughout: scarf drapery, chiffon transparencies and slashed necklines ensure a proudly seductive sensibility; skin-tight cashmere long johns or fetishistic flashes of Ferragamo red echo that spirit.
Accessories add magnetically desirable touches: the Wanda handbag, in a seasonal palette of bubblegum pink and neon green alongside new gradients and proportions; a woven beachwear tote; a special, metal-handled iteration of the Prisma.
But most vital to that energy is an array of footwear imbued with magnetism – the toes of the pump drawn to a perverse point, its angular heel set askew; the Gancino in newly coloured iterations – a tribute to Salvatore's endless innovation and the proud history of Ferragamo. Here is a effortlessly cool modern wardrobe, complete with key accents and accessories designed to stand out.