Malone Souliers, the renowned luxury footwear brand, has unveiled its AW23 Pre Collection.
A stunning lineup of statement shoes and handbags that captures the essence of the upcoming season.
As a nod to the season Denim takes centre stage throughout the collection, injecting a dash of modernity into Malone Souliers' timeless elegance.
These iconic denim pieces are sure to elevate any ensemble.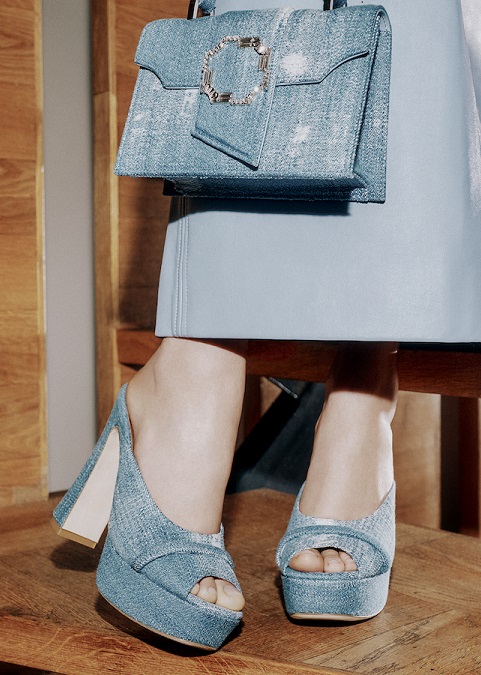 A seasonal highlight, the Yasmin Mules' unmistakable silhouette is defined by a chunky 125mm heel, low-cut vamp as well as the signature strap at the open toe.
This time, the platform heel mule receives a textural update, courtesy of distressed baby blue denim.
The Yasmin Blue Denim Platforms emerge as the quintessential open – toe platforms of the season. Moreover for fashion lovers with a fearless attitude these Mules are a necessity.
For those seeking an infusion of sophistication, Malone Souliers introduces the Una Blue Denim Heel sandals offer an ultra – flattering silhouette exuding femininity and grace.
These sandals not only embrace the perfect heel height for comfort, style and elegance, but also personify the brand's commitment to offering versatile pieces for any occasion.
Making a remarkable debut in this collection is the Misha – an elegant and versatile silhouette designed to effortlessly transition from daytime to evening.
The refined Mish Blue Denim Slingback showcases the brand's signature crest buckle, a symbol of refinement and sophistication.
Complementing these gorgeous denim shoes is the Audrey blue denim mini handbag.
Echoing the classic square handbag silhouette, the Audrey is defined by its angular shape and crystal crest embellishment. 
The perfect companion to complete the double denim look, the Audrey handbag is destined to turn heads.