Fall in love with Carole Tessier's quirky yet classy clutches designed to accentuate your persona…
By Nagmani
Today, the topic of discussion among fashion experts seems to be revolving around the finding of a new group of designers who innovatively design accessories like shoes and bags with an inimitable edge. Their intention behind it is to just create pieces of wearable art in a limited quantity to ensure that the exclusivity factor remains intact, not robbed. This becomes all the more indispensable for both big & small shoe and handbag brands to implement as they go out all the way to entice the buyers who are more than ever looking for something extra special.
Part of this growing influential community of designers is Paris-based Carole Tessier whose clutch label "Preciously Paris" seems to have wowed the fashionistas the world over.
Tessier's interest in designing clutches began to take shape right after she started designing embroidered jeans for special customers including pop star Beyoncé. Since then, there was no looking back for her. "I had a desire to further develop and add meaning to my life. This got me to create plush clutches and showcase the French savoir faire," she says.
Since her first job involved working mainly on decoration projects for high-status individuals thanks to which she acquired an excellent taste for crafts, objets d'art and embroidery, she wanted to master the craft in its entirety. "Everything fell into place for me by and large. I went on to do a Master's degree in interior design from St. Germain des Près in Paris," Tessier says.
It was in 2011 that she laid the foundation of the brand with the introduction of tailored jeans and haute couture. But the first line of bags came out in 2014, which were later presented at the Tranoifashion trade show the same year. "We chose this trade fair because it's known as the mansion of ARTCURIAL steeped in history and modernity. It's the most efficient platform for art auctions and one crucial step toward recognizing the geniuses behind these incredible artworks," she says. "It's a perfect place for any brand (that daintily flirts between artistic and fashion pieces) to promote themselves."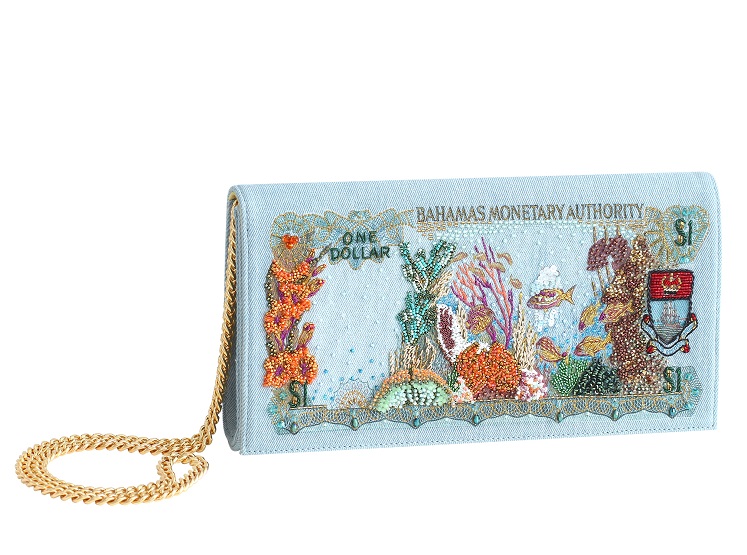 The number of fans who like the brand madly is also staggering because they find her bags out of the ordinary, pop, colorful, and more importantly far from the classics of big houses. "Preciously Paris is a confidential label known for bringing out new collections in small series in a rich and fun way. It stands out from other luxury brands by focusing on energetic collections that do not look like the others, so the client is able to express her singularity," she says. "My customers feel like being part of an elite circle when they buy these rare pieces."
And the types of fabrics that the clutches are made up of concern Tessier a lot. That's why she uses French leather, Italian satin and other exceptional haute couture fabrics. "I also create handmade fabrics with craftsmen working for big houses like Chanel and Hermes. Then I love to use upholstery fabrics sourced from old manufacturers like Antico Setificio Fiorentino, an Italian weaving mill from Florence that has been around since 1786 and which weaves velvet, beautiful silks on hand looms as well. They designed fabrics for the interiors of the Kremlin in Moscow and the Villa Medici in Rome," she says.
Tessier is a patron of ancient textile techniques. She keeps finding unique ways to revive those old practices. "We're working in collaboration with the Fondazione Arte Della Seta Lisio on a series of unique pieces. Founded by Giuseppe Lisio in Florence in 1906, the primary objective of Fondazione Arte Della Seta Lisio is to keep alive and hand down the art of hand-weaving in silk and precious metals. Committed to this mission, the foundation conducts actual production as well as teaching and cultural activities," she says.
Channeling her inspiration and muse to good effect
Tessier finds the best ideas from the art world and the handmade customs emanating from various parts of the globe. "I'm a person crazily obsessed with art. My encounters with artists and artisans enrich my imagination. I just like to mix different eras and styles. At the moment, I'm passionate about ancient Roman history," she says.
She is a big fan of Marilyn Monroe for what the Hollywood legend represented: beauty, myth and elegance. "The image Marilyn Monroe portrayed fiercely while alive has deeply inspired my 50's-60's collection. Her child-wife innocence also influences my designs from time to time," Tessier says.
Besides, the female models photographed by Helmut Newton often cause a stir in her mind. "For me, they're modern women who are not just sexy and fun but also independent and daring. They perfectly correspond to the brand ethos because it transgresses codes. Most importantly, they like to set themselves free from the imposed frames of fashion," she says.
In essence, she also adds that women of Helmut Newton are mostly known to be sculpturally strong. They're dressed or naked or always wearing pumps. "They impose their style with elegance. It's without a doubt that they are the "Preciously" women," she says.
The perfect woman who can add value to the glory of Tessier's brand is someone looking elegant in the sober, classic and feminine outfit that just sets the tone with a preciously colored pouch. "For instance, take a woman like Vibeke Knudsen from a famous photo entitled 'Rue Aubriot' in which she is shown to be standing alone in a lamplit Parisian street in a stylish outfit made of Yves Saint Laurent's cult Le Smoking dinner jacket. That pretty much sums up the sort of woman we want for our brand," she says.
Keeping herself abreast of the fashion scene in the Middle East, Tessier finds it not-so-difficult to ascertain what Middle Eastern consumers really want. "They do have the culture of savoir faire just as the French do. They're in constant search of novelty and rare objects. Women in this part of the world mostly tend to swear by very high-end products that could set them apart. They're also differentiated by their purchasing power, which makes it easy for designers like us to meet the craziest expectations they've," she says.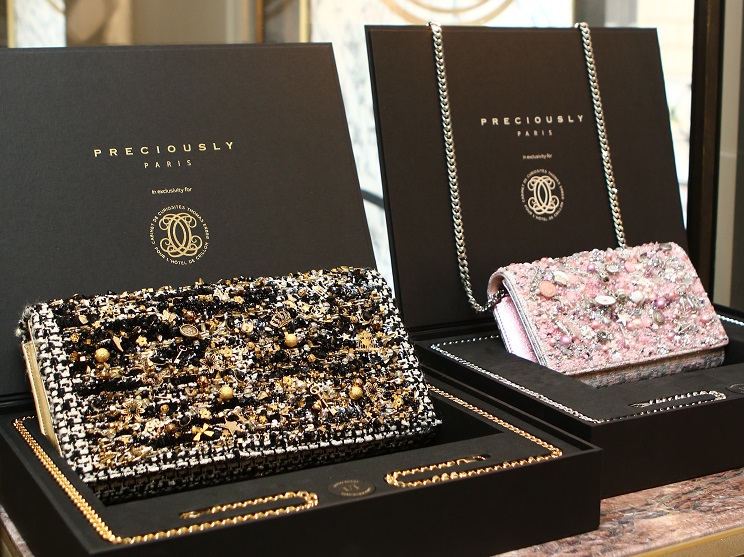 Enjoying a competitive edge
While it's tough to break into this segment, there is no denying that small brands have their own place and are being given a lot of preference to by people. "The model of mass consumption is no longer considered the future. Consumers are starting to look for more expensive, good quality and almost unique products that are also eco-responsible," she says. "Exclusivity is the new catchword."
Compared to other high-profile brands, Tessier has taken a whole new direction to promote her brand thanks to social media. "Social networks are saturated with products placed by celebrities so we develop an ultra-confidential luxury bond through a selected clientele and get introduced into the elite circles, which some celebrities are often party to. People wonder about the Provencal pockets because no signs or logos appear on them far from the ostentatious codes of brands," she says.
And the one particular A-list star Tessier would like to wear her exquisite handbag is Angelina Jolie. However, she already has Nicole Kidman, Damien Hirst and Natalia Vodianova carrying her designed clutches.
Alluring collection
In her latest collection "CHECK", Tessier sheds light on Greek and Roman mythologies and angels and architectural beauty of Italian cathedrals especially the ones located in Florence. "The making of this collection is purely centered on the fundamentals of haute couture. They're very special for that reason and accordingly priced to reflect the taste of opulence our clients seek for," she says. The other fabric house Tessier enthusiastically collaborates with is Le Crin founded in 1787. It's primarily known for making fabrics from horse-hair which in itself is an extraordinary thing.
With the increase in popularity, the brand is right on its way to be sold through special channels like art galleries and palaces where its handbag products can be exhibited. "For me, what matters most is to continue to develop more unique pieces, without price and market constraints, giving free rein to my desires. We currently produce 200 custom made clutches for an exceptional wedding in the United States. We're embroidering on the same fabric as the bride's dress, a great way to leave an unforgettable memory to the guests," she says.
Since her bags are so refined, they're sold at posh locations such as the Ritz Paris, the Hotel de Crillon, the Le Bristol Paris and the Webster Miami. They're absolutely stunners.