This Valentine's Day, the newly reopened legacy resort, Bab Al Shams, has created exclusive tailor-made experiences centred on relaxation and enriching lover's escapade. Nestled within the glistening golden dunes of the desert on the outskirts of Dubai, the serene sanctuary is idyllically poised to take couples on a healing and restorative journey of the senses.
Falcon Dunes Private Stays
Guests are invited to relax together in an overnight stay at one of the resort's rooms or suites with their choice of tropical gardens or desert panoramic views. They can also indulge in a decadent 5-course dinner at Falcon Dunes point served by a personal private butler, including a selection of classic beverages, flowers for the lady and a Valentine's cake to share. A gourmet breakfast served at Zala completes the romantic desert escape.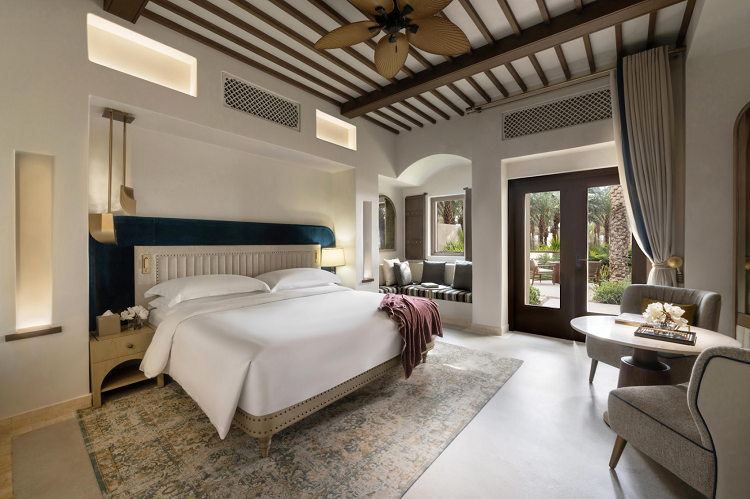 A Desert Sunset Valentines
Visitors can spend a romantic night in the modern oasis with an overnight stay in one of the haven-like rooms or suites with subtly Moorish accents and outdoor space, shaded by date palm trees. The offer is inclusive of a scrumptious 4-course dinner at Sunset point with a bottle of grape, flowers for the lady and a Valentine's cake to share. Couples can enjoy breakfast at the neighbourhood-style eatery, Zala, which will transport them with flavours of contemporary Ottoman, Greek and Mediterranean cuisines.
The resort, a cathartic narration of Middle Eastern culture radiant with life, adventure, and joyful human connection, is the original immersive desert experience in Dubai. Arabic for "Gateway to the Sun," Bab Al Shams' architecture and interior design inspired by the earthly tones of the desert throughout the day, illuminated by the sun and the moon. The resort blends seamlessly in the surroundings with 115 lavish rooms and suites housed in 16 two-storey buildings.
Presenting guests with one-of-a-kind vibrant experiences, including theatrical dining, holistic wellness treatments and therapies, and nomadic desert adventures, combined with an exceptional hospitality experience, the highly anticipated Bab Al Shams Desert Resort is the best way to celebrate the most romantic holiday of the year.