As we head into peak wedding season here in the UAE, this year promises to be one of the busiest, biggest and boldest on record. While recent years have seen couples forced to postpone their nuptials, or hold private ceremonies, they are back to pulling out all the stops and planning the celebration of their dreams.

According to Hannah Matthews, owner of the Dubai-based luxury wedding and event planning company Couture Events, "we have seen a discernible shift towards couples concentrating more on their guests' experiences, and they are happy to invest in enhancing this quality time together". 
Hannah shares some of the popular trends emerging for the 2022/2023 season below:
Multi-day weddings
It's a marathon, not a sprint! While multi-day celebrations are already common in Arabic and Indian cultures, far more Western weddings are going beyond the traditional ceremony and reception. And it's not limited to welcome cocktails or a post-wedding brunch either. Couples are getting imaginative and planning three to four-day extravaganzas with events such as desert safaris, sunset sails, sporting activities, sightseeing trips, and spa sessions, all at no extra cost to the guests.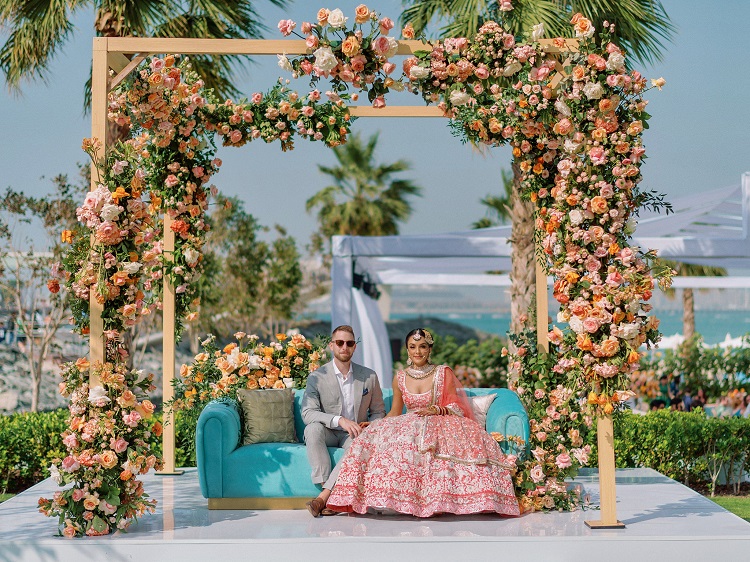 Closer connections
Arab weddings have traditionally been huge events with many guests connected to the broader family, but we're now seeing a marked increase in smaller weddings (going from around 600 to 200 guests). As a result, the experience feels a lot more personal for the bride and groom and they are taking an active, hands-on role in the planning because they feel connected with everyone there. Instead of costing less as numbers decrease, families are spending the same amount as before, increasing the spend per person, creating ultra-luxe concepts that feel intimate, yet lavish.
Mediterranean vibes
Despite living in the Middle East, many guests are asking for a Mediterranean theme and it's a wonderful opportunity to stand out by transforming a UAE garden or a hotel ballroom into a breath-taking Italian, French or Greek landscape. We are using a lot of pale blues and adding strong accents of citrus lemon and orange in the colour scheme. Overall, clients are more adventurous with their themes, doing their research online and coming to us with requests to blend two or more different ideas for the ultimate the wow factor. Live music is definitely in demand right now. It is being done in unique ways like mixing a live DJ with a saxophone player and roaming bands who move among the guests.
Canapes headlining the catering
While a sumptuous buffet is still the centrepiece of choice at most Arab weddings, there has been a noticeable shift in catering requests among other nationalities. Many couples are relaxing and mingling with their guests longer during canapes, then skipping the starter and only sitting down for the main course and dessert. People often like to put their own individual stamp on the menu by designing a bespoke canapé selection, in addition to personalised cocktails or mocktails. This might be used to tell the story of the couple's lives together, perhaps with hints of where they got engaged, favourite holidays and dishes that they love to prepare at home.
The future is brightly coloured
Finally, don't be surprised if the traditional white gown is replaced by a more colourful choice. We saw a range of brighter bridal dresses at the recent Milan Fashion Week, some with very eye-catching designs. "This indicates that we are really challenging the traditional wedding perceptions, and I believe we will see clients making much braver colour choices coming into 2023. For those who still prefer lighter tones, pearls were everywhere and they'll be used not only on clothes but also in the decoration and accessories," concluded Hannah.